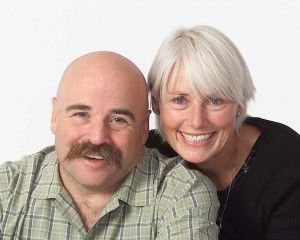 Early Years
Kelly was born in Canada, and he grew up in a conservative Jewish home. Both his parents were committed Jews. After eight years of Hebrew school and doing his bar mitzvah at age 13, Kelly left the Jewish faith.
Being a teenager was difficult, and he seemed to always be in trouble with drugs and the law. Eventually, he was confronted with the decision to either continue rebelling or straighten up. He opted to turn his life around and started applying himself to academics and athletics.
Kelly attended San Diego State University for his undergraduate studies and UCLA for graduate work. He completed several degrees and ultimately became a CPA.
Kathy was born in Santa Barbara, California. Her parents were Presbyterian, and she was the oldest of six children. At a very early age, her family moved to Westchester (just west of Los Angeles).
Even though going to church was an integral part of her upbringing, she never actually understood the Gospel or that she could have a personal relationship with Jesus. But she loved being a part of church life.
After attending a community college in Southern California, Kathy was accepted to a new school called Point Loma Nazarene University, where she earned a degree in nursing. Soon after that, she became a registered nurse.
The Road to Salvation
In 1970, Kelly met Kathy through her best friend. They began dating and were married in 1976. Shortly after their marriage, while living in northern Idaho, Kelly and Kathy began attending a local church. They also began to read the Bible and learn more about God's plan of salvation. Kelly soon met a local logger, who shared the Gospel with him. Kelly was cautious but very interested. Within a few months, Kelly accepted Jesus as his Savior and Lord, and he committed his life to following Christ. Not long after that, Kathy entered into a personal relationship with Jesus.
The Koskys then moved from Idaho to northwest Montana to start their family. Kelly had a CPA corporation in Montana, and he also did some teaching at a local college. In addition, he was part of a financial team that advised the governor. Kathy became the county public health nurse. But with two infants at home, she gave up her career as a nurse to focus her energy on family and homeschooling the children.
The Call to Missions
As Kelly and Kathy grew in their love and understanding of Jesus, they began to share His Word with those who had never been exposed to the Gospel. Kelly had nightmares about the millions who had no opportunity to hear God's message of salvation and who were headed for an eternity without Christ. Whenever he prayed, he unconsciously gravitated toward praying for the lost. And whenever they read the Bible, Kelly and Kathy kept hearing the call to missions. And they began to pray for the unreached.
During a conference in the West Indies for Christian leaders, Kelly saw countless people who were hopeless without Christ, and it broke his heart. Shortly after that, Kelly was invited to participate in a ministry trip to Africa, where he saw thousands who had never heard of Jesus before. It was this experience that changed the course of the Koskys' lives.
The Call to the Bottom of Africa
After he returned, Kelly received confirmation from Kathy that the Lord was calling them to serve Him as missionaries to the unreached tribes in Africa. Wanting to help people no one else wanted to help, Kelly and Kathy shared a vision to reach the Xhosa in the Republic of Transkei, where 85% of the population had never heard the Gospel.
After being rejected by 52 missions organizations, Kelly and Kathy decided to follow God's call without any organizational support. Even though they loved their lifestyle in northwestern Montana, in the mid-1980s, Kelly, Kathy, and their five children left the Rocky Mountains of Montana and ventured to the Republic of Transkei, committing their lives to bringing the Gospel to the remote Xhosa villages of Africa.
Through their ministry of almost four decades, thousands of villages have been introduced to Jesus, hundreds of churches have been planted, and more than 40,000 Xhosa have been baptized. In addition to establishing a Bible college, shelters for orphaned children, and a major HIV/AIDS medical facility, the Koskys are enabling the Xhosa to become spiritually and operationally self-sufficient.
The Koskys could easily sit back and be thankful for everything that God has done through their ministry. But they are keenly aware that they have only scratched the surface. The work has only begun. There are still tens of thousands of Xhosa villages that are still in darkness. The Koskys are working night and day to bring the Good News to those who are hopeless without Christ. They pray for the unreached Xhosa and for the resources needed to advance His Kingdom to the remote and isolated villages. They also pray that the Lord will send long-term missionaries to join them in the quest to reach the "hidden-half" of the world.