Watch The Wait of the World
Watch A Field Ripe for Harvest
ALONE at the BOTTOM of AFRICA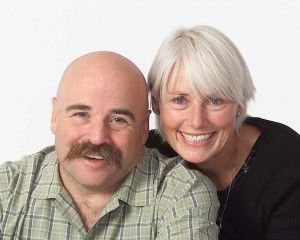 It's been a long night of preaching and praying in this remote mountain village called Cefane, which is next to "Satan's Neck" in the former Republic of Transkei. During our all-night meeting, over 200 villagers make a commitment to Jesus, including a tribal chief and two witch doctors. At the predawn closing of the gathering, Kathy and the evangelistic team rejoice in seeing another village transformed by the love and grace of Jesus. But I go off to sit at the edge of the chief's kraal overlooking the "Valley of a Thousand Rondovals" (huts).
My thoughts wander to the tens of thousands of Xhosa villages that are still living in darkness, without the Light. I could easily be content in the fact that the Lord has used us to plant more than a thousand churches in this forgotten region. I could celebrate that over 40,000 Xhosa have been baptized. I could possibly take pride in the thousands of Christians who have graduated from our Xhosa Bible college. I could relax knowing that our HIV/AIDS facility ministered to over 78,000 Africans last year alone. Maybe I could be satisfied in the fact that our shelters feed and care for thousands of abandoned Xhosa children who have no parents. But it's not enough…
As the African sun begins to rise, my thoughts are interrupted by the mocking sound of the hadadas flying overhead. Timba brings me a hot cup of bush tea and leaves me alone with my thoughts. As I look across the valley below, I can see the smoke rising from the thousand cooking fires at each ikhaya. I begin to pray for the tens of thousands of villages that have never been reached with the Gospel. I pray that we and our outreach teams can get to the millions of unreached Xhosa at the bottom of Africa. I begin to weep for those who are hopeless and helpless without Christ.
My prayers are interrupted by Kathy bringing me a traditional breakfast of umngqusho (maize and beans) and isonka, along with amasi (four-week-old soured milk). In the quiet of the morning, we have breakfast together and look out onto this vast land that is often called the "Wild Coast" because it is remote and untouched by civilization.
I break the silence by asking her, "How can we alone reach the millions of unreached Xhosa? There are no other full-time missionaries in the Transkei. There is still so much to be done. The Lord seems to be asking, 'Who will go for us?' (Isaiah 6:8). Who is going to answer, 'Here I am. Send me'? How much longer do the Xhosa have to wait?"
Kathy does not respond. Instead, she begins to pray. She begs the Lord to send out laborers into His harvest field. I join her. Suddenly, we're interrupted by Timba. He reminds us that we have a long way to travel today to reach the next scheduled village. We must begin the journey.
Today, we have to cross the Great Kei River and travel into the Ciskei. The time is short. We can't waste today. We must reach one more village.
Please join us in reaching the "hidden-half" of this world.