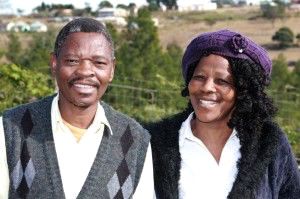 The name Vuyani means "rejoice". Vuyani grew up in Nyayethsa, a tribal village in the southern Transkei. As a young Xhosa man he moved to the largest Xhosa township in South Africa in search of work, but work was hard to find. He and and his wife heard Kelly preaching at a ghettos church. Although interested in the Bible, he didn't make a commitment. Then some years later his wife died of AIDS and he was devastated. He went to a remote location to pray and fast for 21 days. On the 20th day, he sensed the Lord telling him to meet with Kelly for some answers.
When Vuyani came to Kelly, he shared with him about the loss of his wife. He also told Kelly of his desire to know Jesus, that he had heard Kelly speak about at the Khayelitsha churches. Kelly prayed with him and he committed his life to serving Jesus. Based upon Kelly's suggestion, Vuyani came to the mission in the Transkei and studied at Gatyana Bible College.
When Vuyani started Bible College he met Nomakhaya, and they were soon married. Together they studied God's Word. When they graduated from Bible College they immediately began to plant churches in many villages. Both Vuyani and Nomakhaya live in one of the remote mission stations and are planting churches throughout the Transkei.